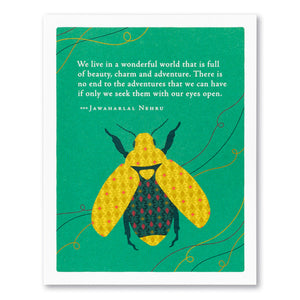 PG BIRTHDAY CARD – WE LIVE IN A WONDERFUL WORLD …
We live in a wonderful world that is full of beauty, charm and adventure. There is no end to the adventures that we can have if only we seek them with our eyes open. – Jawaharlal Nehru

Inside: Be on the lookout for the moments that shine. Happy birthday.

Celebrate the most important people in your life with the best-selling Positively Green line of cards, which feature beautiful illustrations, thoughtful quotations, and a helpful green tip.