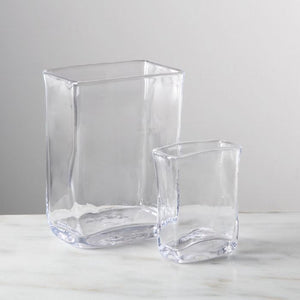 Named for a quaint small town in Windsor county, Weston offers a further iteration on the squared-off angles of our signature Woodbury Collection, with a focus on angular-yet-fluid rectangular silhouettes. Weston pieces speak in the vernacular of Vermont buildings, from structural barns to towering silos. A testament to the abilities of our glassblowers, brilliant glass is folded into classic, organic shapes, with the flared pieces in the line requiring extra finesse to build.

The small Weston Vase features strong lines that form its rectangular shape. Its small size makes it perfect for daily use offering everyday elegance.
Handmade by Simon Pearce glassblowers using centuries-old techniques.
Dimensions : 5¼" H x 4⅛" W x 2¼" D
Capacity : 18 ounces
Materials : Glass
Made In : USA
Hand-wash with warm water and mild detergent.
Do not expose glass to extreme heat changes, such as filling with hot liquid or placing in the freezer. A shock in temperature can cause fractures.