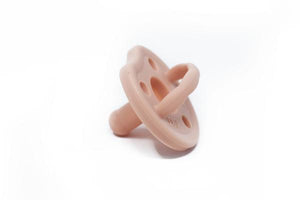 Classic Pacifier may be little but they are so mighty. Not only are they perfect for newborns and toddlers but they also are amazing for NICU babies. The notch featured at the top allows NICU baby's tubes to have easy access. Our scalloped handle is also lightweight making sure it doesn't weigh down the pacifier. The Classic Pacifier also features 3 vent holes so baby is less likely to conduct a rash from drool. Another great feature is this pacifier is all one piece.
ADAPTS TO BABY'S MOUTH
PACIFIER ALWAYS STAYS IN CORRECT POSITION
PERFECT FOR BREASTFED BABIES
CLEANING INSTRUCTIONS: Dishwasher Safe (top rack only)
SAFTEY COMES FIRST: You can rest assured that our pacifiers go through all safety testing and are CPSIA tested and CERTIFIED. They meet all safety requirements. Our pacifiers are also 100% silicone.
FREE OF: BPA, PVC, latex, and phthalate
ADDED FEATURE: We added 3 vent holes so there is more air flow to help babies mouth stay dry and less likely to conduct rash
Please Note: This is NOT a teether. These pacifiers are strictly for soothing ONLY.