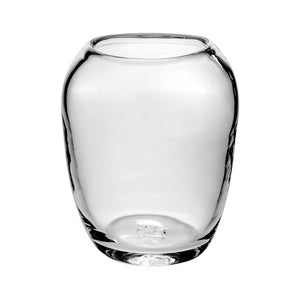 The Nowlan Large Vase is a piece truly reflective of nature, its silhouette reminiscent of a pebble whose edges have been slo
wly smoothed by a rushing river.
Simon Pearce's glassblowers start with a larger-than-usual gather of our superior molten glass, and working with great skill in handling and shaping the weighty material, forms it into beautiful home décor. The vase's expansive sides are molded with wooden paddles while the glass is still warm.
Handmade by Simon Pearce glassblowers using centuries-old techniques.

Dimensions:

10" H x 8" W x 6¾" D

Capacity:

100 ounces

Materials:

Glass

Made in:

USA