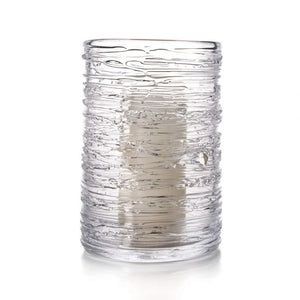 In a bold interpretation of the craft, master glassblowers nimbly wrap fine strands of glass around a cylindrical base to form the unique, natural silhouette of each candle holder. Whether frozen in winter, or flowing in summer - this piece was inspired by the constantly changing rivers, streams and waterways in Vermont.
Includes complimentary pillar candle.
Large: 9" H x 6" W x 6" D, 100 ounces, 3" x 6" pillar candle included.
Made In : USA
Clean with glass cleaner and a soft cloth.
Avoid letting candles burn out. Extinguish when the flame comes within two inches of the glass.
Never leave burning candles unattended.
Do not expose glass to extreme heat changes, such as placing in the freezer. A shock in temperature can cause fractures.