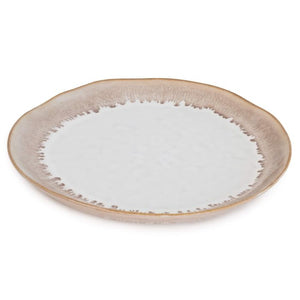 We've channeled the earthy spirit of Burlington in our collection of freehand pinch-pot designs. Each piece is alive with mottled, tactile uniqueness – including this charming side plate. A soft neutral Bluff glaze is applied with an artistic drip technique along the edges – making each piece truly one of a kind.
Dimensions : 1″ x 9″
Made In : USA
Dishwasher- and microwave-safe.
Do not expose pottery to extreme heat changes, such as placing pottery in a hot oven or placing hot pottery in a cold refrigerator. A shock in temperature can cause fractures.
When cooking with pottery, the dish and food should be placed in the oven during preheating.