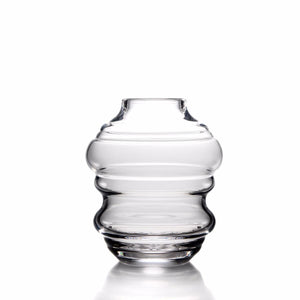 A brilliant choice for showing off seasonal blooms, this clear glass vase features signature clarity and handcrafted curvature for a new take on a classic silhouette. The inspired shape of Bloomfield's handblown glass vase is created with a technique reminiscent of wood shapes turned on a lathe.
Handmade by Simon Pearce glassblowers using centuries-old techniques.
Available in L and M.
Large: 13" H x 8" W x 8" D, 192 ounces
Medium: 9⅛" H x 7¾" W x 7¾" D, 128 ounces
Materials : Glass
Made In : USA
Hand-wash with warm water and mild detergent.
Do not expose glass to extreme heat changes, such as filling with hot liquid or placing in the freezer. A shock in temperature can cause fractures.