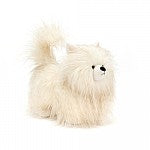 Precious Patsy Pup is a dog-show diva, and loves to be combed and groomed! Soft and fluffy like a snuggly marshmallow, she's a glamorous pup with silky cream fur. Holding her tail high, she trots along on her neat little paws.
Tested against and passed ASTM requirements.
Not recommended for children under 12 months due to fibre shedding.
Hand wash only; do not tumble dry, dry clean or iron. Not recommended to clean in a washing machine.
Height 11"
Check all labels upon arrival of purchase.