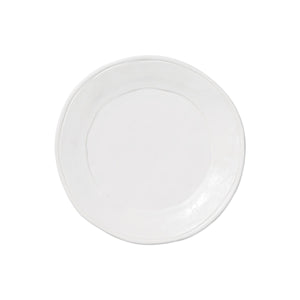 Perfect for appetizers on the kitchen island or in the dining room for well-dressed dinner parties, the Fresh Salad Plate is simple and clean. Layer with your grandmother's fine china or favorites from your local boutique, either way it's a fun, playful setting.
8.75"D
Dishwasher safe - We recommend using a non-citrus, non-abrasive detergent on the air dry cycle and not overloading the dishwasher. Hand washing is recommended for oversized items.
Microwave safe - The temperature of handmade, natural clay items may vary after microwave use. Always use a pot holder or oven mitt when handling the product as the item may get hot or allow the item to cool before removing it from the microwave.
Oven safe - VIETRI's casserole and baking dishes can be used in most conventional ovens and dishwashers. They are handmade of very dense clays and fired at extremely high temperatures, making them heat resistant to 400 degrees Fahrenheit. It is important that all terra cotta baking pieces be cured. Italian stoneware collections do not require curing. To cure servers, fully submerge and soak in water for 15 minutes prior to each use. This soaking prepares the dish, reduces cooking time, and prevents the food from sticking. As the Italians do, place baking dishes in a room-temperature oven and then bring the oven to cooking temperature. The handles of these pieces are decorative and should not be used for support. Do not use casserole lids in the oven.
Freezer safe - Items can withstand freezing temperatures, but please allow them to return to room temperature before putting them into the oven.