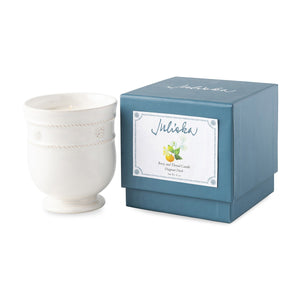 Scented like it's freshly cut from the garden, this Berry & Thread candle not only comes elegantly gift boxed for the perfect gift, but will envelope your home with savory notes of Provencal herbs in its inviting aroma. Forward notes of lemon, eucalyptus and mint melt into base notes of amber and fruit in this warming fragrance.
Measurements: 3.75"W, 4"H
Ceramic Stoneware
Wick is 100% cotton; wax is 70% vegetable, 30% paraffin
Made in Portugal
Includes a gift box
Burn time is approximately 55 hours.