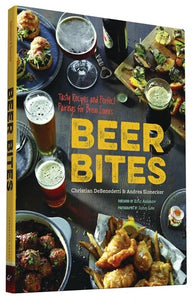 BY ANDREA SLONECKER ; BY CHRISTIAN DEBENEDETTI ; FOREWORD BY ERIC ASIMOV ; PHOTOGRAPHS BY JOHN LEE
As beer lovers well know, there has never been a better time to be a beer drinker. But all that beer begs for the right food to go with it! This collection serves up 65 globe-roaming and simple recipes from appetizers to snacks and main courses that go beyond typical pub grub with recommendations of beer styles and widely available must-try brews for each dish. Beer Bites is ideal for the growing cadre of craft beer lovers eager to explore the basics and nuances of beer and food pairings, whether they are hosting tasting nights or just enjoying one good brew at a time.
Andrea Slonecker is a cookbook author food stylist and recipe editor for Kinfolk. Her books include Pretzel Making at Home and Eggs on Top (both published by Chronicle Books).
Publication Date:
10/13/2015